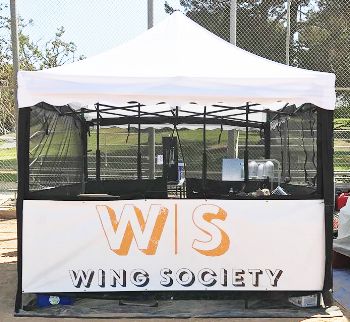 Wing Society started as a pop-up at the Taste of Inglewood food festival in Inglewood, California on July 30, 2017, serving craft buffalo wings and sandwiches. Since then, we have been on a mission to provide the best quality food experience to our followers, the #WINGMOB. Wing Society only sources the best quality ingredients for our customers. All of our chicken is all-natural, antibiotic-free, and always fresh.
Ace the Cook didn't always use the kitchen as an office space, however. Despite secretly possessing an earnest passion for making great food for great people, he started his career as a mechanical engineer. After a couple years of seemingly never-ending monotony, his desire to scratch his entrepreneurial itch grew too big to ignore, so he took a leap of faith and a chance on himself.
With a childhood dream of owning his own restaurant in his sights, Ace, after a year, stopped moonlighting as a chef on the nights and weekends to pursue his passion full-time. Local events and festivals, the cook determined, would be the perfect litmus test for his craft wings, sandwiches, and fresh-cut fries. So, he started his pop-up and pulled up to numerous functions throughout southern California, learning his lessons with every challenge—wanted or unwanted—that came along the way.
From a tented pop-up kitchen to a custom food truck, Ace the Cook leads Wing Society on a mission to spice up lives with engaging customer service and even better food. You never know when we'll end up in your neck of the woods (unless you follow us on Instagram). Join the #WINGMOB and stay tuned!